I.GENERAL INTRODUCTION
The bright future of any community, society, and country is always formed through the current youth who are being prepared to be the future leaders, business owners, and decision-makers at every level of the country life and the world in general. The better the youth of today are prepared, the better future generation is assured to be increasingly stable. Generations pass but their history and characteristics remain forever, whether they have been good or bad. When Good News International was founded, it had in its vision and mission to prepare and teach the next generation. The implementation of this vision was not specifically clear until the time God brought in a new gift of the Joy Center, through his servants Rev. Kim and Mi ja, who accepted being used by God to give this great gift to the young people of Rwanda. The Joy Center is now built in the Gahanga sector, Kicukiro District, in Kigali city. This document explains the programs and activities in detail that will be made available at the Joy Center. It also mentions the achievements
II. BACKGROUND OF THE JOY CENTER
The Joy Center was born out of a concern for youth empowerment to develop a future generation with cognitive, technical, and technological skills, able to cope with the ever-changing world. The center/ focus of every activity that will be held in the Joy Center is the mindset change. In its inception, the early ideas and sharing about the creation of the Joy Center, it was decided that the Joy Center facility is not for any other purpose than for youth empowerment. This makes it a learning center where everyone will be welcomed. The vision for the Joy Center is to empower the young generation of Rwanda by providing them with specific skills that will coach them in their future performance, both physically and spiritually. Many different programs will be made available in the Joy Center that will also have to match with the national expectations that provide the quality skills our society needs most.
DETAILS ABOUT ACTIVITIES AND PROGRAMS
The plan is to have a variety of activities and programs in the Joy Center. These activities and programs fall within the vision of the center. These are the community activities and those prepared to empower the youth. These activities will not have any cost to attend. They are described as Main Programs and Activities.
MAIN PROGRAMS AND ACTIVITIES
Cooperative Formation Training
We believe that together we can achieve a lot more than any one single individual could on his/her own. This will be a specific program for the youth who will be trained about the role of working through cooperatives. The youth will be taught the basic skills involved in the formation of cooperatives, as well as how to maintain and grow these skills over time.
Youth Camps (During School Holidays)
When the students are on school holidays, we believe it is good to gather them together in order to coach them and teach them in a fun and informal way. They will be placed in different groups according to their ages. Within the youth camps, they will be given opportunities to learn more about life. They will also be able to interact and exchange ideas with other youth in order to shape their bright futures together. Games and crafts will additionally be provided in the organization of these youth camps.
Income Generating Activities (IGAs) & the Entrepreneurship Program
One way to eradicate poverty within the youth is to train them on how they can create their own income-generating activities. This will be done based on the principle of no capital injection, which means that the program is not designed to give them money but to teach them to discover their own ability and potential to be used for their financial development.
Today, the world is driven by technology. For that reason, our young people should have the basic skills to know how to use a computer in their everyday activities. This will be also an opportunity for them to have access to other technological tools. This will be a class to teach, not only the youth, but also the local population, about basic computer skills and programs.
Vocational Training Skills
There is a huge need of professional skills that you realize in the area of Gahanga where Good News has its youth center (Joy Center). There is no Vocational training center in the area which can train the youth. Some of the training classes have already started. Our goal is to set up an excellent Vocational Training Center of high standard by the end of the year 2021. The following are options that we will have in our VTC.
Sewing Training Class
Welding Training Class
Carpentry Training Class
Electricity Training Class
ICT Training class
What if someone can do many things, but/cannot communicate? Communication is the basic element of everything we do. Here, we consider language as the center of every business. Nowadays in Rwanda, and even all over the world, English is crucial to understand and know in order to have success in life. This class will aim to provide our youth with Basic English skills for both oral and written communication.
The Joy center will not only serve the purpose of teaching, but it will also serve as a community gathering place for events such as retreats, organized prayer groups, and other community activities that the local community would benefit from.
One way to maintain the interest of youth is to introduce games and other refreshing activities. Joy Center will be a center for the expression and experience of true joy through fun games and activities! Youth will be introduced to different games such as Soccer (Football) at the beginning of our programming, then basketball, volleyball, handball and many other games. Different competitions will also be organized in order for the youth to discover new talents. Music, traditional and modern dancing will be also introduced as well as a drama show
5. ACHIEVEMENTS
There are several achievements in all areas as we discussed above. In term of vocational skills training, among 5 classes, 3 of them have already started and the progress is very encouraging. In sewing classes, we have two promotions who have graduated and are out working in different sectors. We have the first promotion of welding class going on. We have the ICT class going on as well. We have carpentry machines which are in good condition. Our future plan is to expand those programs into a well-equipped facility that will have enough infrastructure for all the programs.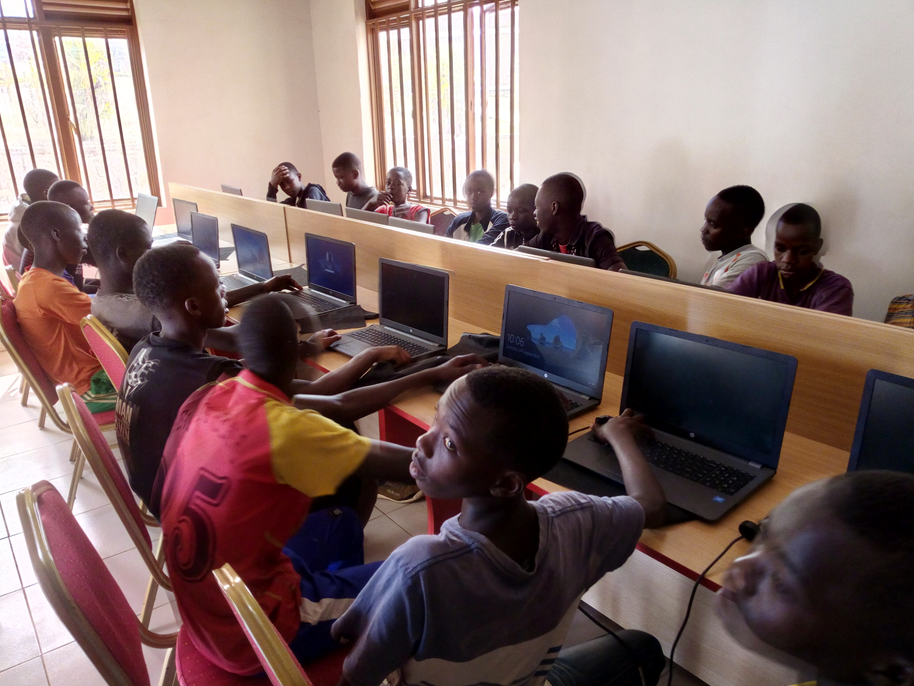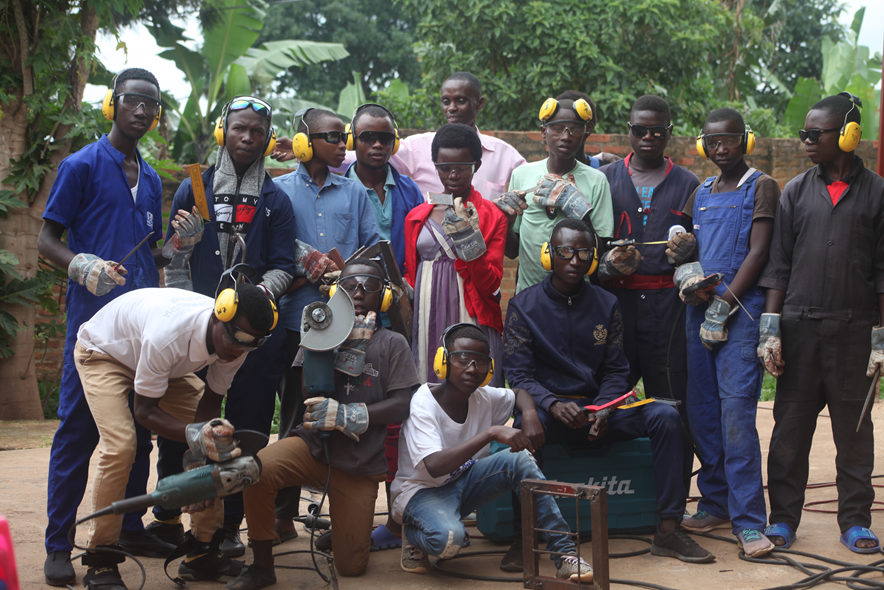 STRUCTURE OF NEW VTC